I am working on a project and I am trying to get smart for that project.
I need to get smart about lead gen in insurance.
I noticed an email from Kansas City ad agency, Native Digital. Unfortunately, the email wasn't linkable, but I am giving them full credit for these graphs.
First, they pointed out that on the internet people search for "best" not "cheap."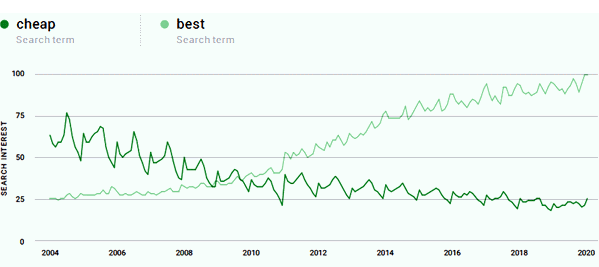 Then Native Digital highlighted an experiment where fictional brands were pitched and purchased (or not purchased) by industry. Consumers are most likely to go for a fictional car insurance brand.
The Native Digital conclusion seems dead on:
Turns out we're pretty loyal to our cereal and whisky of choice (potential breakfast combo?!), but not so much to financial products like mortgages, credit cards and car insurance that don't yet hold a warm place in our hearts.
Hmm. What does this mean specifically for commercial insurance? You can see why insurance companies want to take back the customer relationship and add high-touch services that might gain loyalty. But is this a losing battle? If customers fall for a fake brand, doesn't this imply the switching costs to change insurance are low? Presumably, the consumer is rationale and ways how easy or hard it is to switch brands in each industry.
It's easy to get a new credit card (you don't even have to switch or shutdown).
It's easy to switch insurance (agents take care of the process).
Mortgages seem to be harder to switch — but maybe not with the prevalence of re-financing.
And, by the way, I think this survey relied on some amateur bikers. No one is touching my Trek XO or Giant Defy bikes.